Blackpool Bash 2013 - Trip Report & Pictures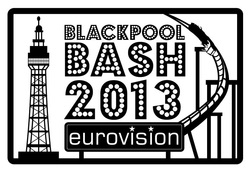 It's club trip number two and the first coaster trip of the 2013 season. It's a special Blackpool Bash as this year our club celebrates 25 years of bringing enthuiasts together and what a turnout. As usual members from all over the UK converged on the seaside town of Blackpool and this year we also had members from Owosso in Michigan, USA, known to the regulars on the USA Trips.

​As usual our group met up on the South Pier in the Laughing Donkey Pub and met up with a number of club members. It turned out to be one of the coldest Blackpool Bashes we have had but the weekend's entertainment and rides were not going to spoil things. Friday started with us meeting in the Paradise Room for an evening of entertainment starting with Nev welcoming us to the Bash and a change, due to health and safety rules we couldn't get Graham Shaw up on stage, but with three acts we were not disappointed.
​
The first act was club member and magician Rob Gaffney trying out his new act. The second act was singer Nicki Miller and then finally we had back by popular demand Britain's Got Talent star Craig Harper. During his act he asked if our Nemesis was in and in a flash Nemesis Nick was there trying to take over! Involving the audience from start to finish Craig's act was a great finish to a great evening. Craig thanked Nev at the end of his act and then stayed for some photo's and autographs and also had a selction of DVD's for sale. So that was it, Day 1 of the Blackpool Bash was over so it was off to our hotels for a few late night drinks and then some rest in readiness for the main event, our day in The Pleasure Beach.
---
Saturday started with a Full English Breakfast followed by us heading back to The Paradise Room where we exchanged our vouchers for wristbands. Then we were led into the park and stopped off at The Grand National on Grand National Day for a group photo shoot as Nev was getting his hands immortalised in concrete to celebrate the club's 25th anniversary. Then it was off to the rides for the first of our weekend's ERS's on The Big One, Steeplechase and Revolution. Following the ERS's we had free time in the park so went off in our groups to enjoy some more rides. We took in The Avalanche, River Caves and their new attraction for this year, Wallace and Gromit's Thrill-O-Matic.
​
We were then able to get a group photo with Wallace. After a few more rides we headed back into The Paradise Room for our lunch, and to stock up on some club merchandise. After lunch we had our usual talk from David Cam of The Pleasure Beach where Nev was presented with a piece of the chain from his favourite pleasure beach ride, The Grand National. There were also some cakes to celebrate the 25 years of the club. Members doing this year's USA Trip stayed back for a chat then it was back into the park for some more riding. We even had a go on The Alice Ride and when walking to other rides saw the other half of Wallace and Gromit and so got a group photo with Gromit.

At 4PM we gathered at one of our favourite rides for an ERS, The legendary Grand National. Following the last ERS of the day we had time for a few more rides, there were a brave bunch who dared to ride Valhalla! Then not to be outdone they rode it again without the protection from the elements and so got soaked through! While they left to get changed we headed over to The Avalanche. Enough riding it was time to head up to The Paradise Room for tonight's entertainment, The Eurovision themed Coaster Crazy Show. When we first entered the Paradise Room we were greeted with hundreds of 25th Anniversary Cup Cakes, and it was a good job I got an early photo as these were soon demolished!
---
Now it was time to enter The Paradise Room for the evening's entertainment, with this year's theme 'Spooky' While walking to our table I was treated to a right horror show, a table full of Ryan's!! Once everyone had settled it was time for the show to start. Alan Chilvers ws first on stage as The Phantom and this was followed by Thriller and The Monster Mash. Nev then entered wearing some horror teeth, these didn't last as he couldn't speak! Nev welcomed us to the Spooky Themed Coaster Crazy Show so it was time for Act 1. The first act of the night was from The Sheppards performing Grim Grinning Ghosts. This was followed by a strange experience, was it put on or what? Nev hypnotised Ryan and when he uttered a word Ryan jumped up in pain. Ryan moved to several seats and each time Nev utterd the word up he jumped. Nev then got some more members up and made them jump up and a table at the front wasn't exempt. Act 2 was from the Coaster Kids performing Coaster Busters. Now it was time for The Kids Gopher Game where the kids have to retrieve an item from a member of the audience.
The hotel keys was a laugh as there were 3 from The Travelodge which Nev kindly mixed up! Act 3 was from CJ, Ella & Molly performing Jai Ho. Next, the legendary Gong Show where members perform, the good acts get to do all or most of the act, the poor ones are OFF! First on stage was Dan Ould juggling, well you have never seen such an awful attempt, he was off that quick I didn't even manage to get a photo! Stuart Pope was next performing 'Ernie - The Fastest Milkman In The West' Ryan was next with his ode to Coasters and this was followed by Alice and Harry. Barry Frost came on next and didn't last long. Ellis Williams was next followed by everyone knows him, Nemesis Nick. Death was also mentioned as a Gong Show act but never made it past the curtain. Next was the voting for your best and worst act, and somehow Nemesis Nick won both!! Back to the real entertainment and Liberty Williams came on singing Put a Spell On You. Time for the second game of the evening entitled 'Bang' where couples had to burst as many balloons as possible to win a prize. Shaun and Jan Bryan won this and ended up winning a weekend at The Big Blue Hotel.
---
Seats taken, evening meal had, it was time for the entertainment to start and we were straight into the show opener with Alan Chilvers, Paul Heaney and Emma Erangey. The first act was show regular Kelly Cameron performing Ooh Ahh Just a Little Bit. Then it was straight into a game which was a two parter. Members went up on stage to play the Yes/No game and tried to answer some questions without saying yes or no, with the three best times going forward to the second part, Open The Box. With this game over it was back to the entertainment where we had The Coaster Kids. This was followed by Lordi consisting of Brian Smith, Nemesis Nick, Ton Hey & Death. Game number two now and the favourite for our younger members, The Gopher Game. Back to entertainment and Dave Maryan performed That's Life.

Time for the worst entertainment of the night! yes it's The Gong Show. First up was SuperDini & Emma Roids, We then had Sam and Penny followed by club favourite Ryan Hacket as Fakir On. Carl May was next followed by Barry and Dave. Death had a short appearance then we had Ella and Molie. The last two acts of the night were Matthew Bauckham with Dave Wells and finally Andy Hunter. Following a very large Gong Show we had Wendy Evans performing a Eurovision Medley. Then we had the final game of the night entitled Open The Box where the three winners from the Yes / No game were invited back on stage to pick a box from 1 to 9 and open it. You could either win the prize in the envelope or accept a cash offer. We had a Baseball Cap won as a prize instead of cash, a Blackpool Pleasure Beach stay and park entry and then finally a cash offer of £30 was accepted but the envelope had £300 in it. That's the way it goes. It is time for the last act of the night, an act that started it's life on an american trip, became the trips theme song, got a member into trouble as they accessed my website during a meeting as the song started, Ryan Hacket, Matt Walker, Mark Blundell, Carol Hedges, Heather Hall and Gareth Arkell performing the Eurovision song Dancing Lasha Tumbai. After a few thankyou's it was time for an extended club party. At the end of the night it was back to the hotels in readiness for the last day of the bash.
​
Sunday we met outside the park in readiness for the last ERS's of the trip, a triple ERS on The Big Dipper, Infusion and Wild Mouse. I went over to Infusion first then went to have a go on the woodie. Very popular with the club a large queue had gathered. The park then decided to put on the extra train which ended the ERS on this coaster. The train was sent empty and didn't make it back round. The park called in everyone to give the train a push and got it back near the station. One last push would see it back round but the train went backwards and got stuck in the dip. That left some more rides on Infusion and The Wild Mouse. At the end of the ERS's we chilled out having a chat and cuppa before heading for some Sunday Lunch. At around 3PM we headed back to the hotel to say a farewell to Nev and the gang and Mike our USA member saw the Michigan's Adventure Magnets on Ryan's car. Well that was it, another bash over. Not long now to the USA trip so will see you at Terminal 5 at Heathrow.

​Trip report by Dave Perry

---