USA 2014 - Le Monstre Bash - Trip Report & Pictures
"USA 2014 ~ Le Monstre Bash took place between May 31st and June 16th 2014.

Starting on Saturday 31st May attendees flew to Atlanta. Then from Sunday 1st June - Sunday 15th June they visited over 10 parks including Six Flags Over Georgia, Carowinds, Busch Gardens, Kings Dominion, Six Flags Great Adventure, Quassy, Canobie Lake, La Ronde, Canada's Wonderland and more, before flying home from Toronto late on Sunday 15th June and arriving at Heathrow on Monday 16th.
​
​

And some of the coasters they rode included, Goliath, Thunder Road, Griffon, Intimidator 305, Kingda Ka, El Toro, Wooden Warrior, Boulderdash, Le Monstre, Behemoth and more. In fact well over 100 coasters!
It's here, the Big One, USA 2014 - The Monstre Bash. The trip started for me on the Friday where I got the flight down from Newcastle to Heathrow going out in Uxbridge. Saturday morning and our Taxi arrived for the short journey back to Heathrow. After checking in, dropping off our baggage it was through to security and into the departure lounge. The flight was due to take off at 15.25 so we had a good deal of time to kill. As usual we went to Huxleys for a breakfast and a pint. An hour before the flight was due to take off we headed over to Gate C on the shuttle where we waited a short while before we started to board.
On the plane, doors shut it was off to the states.

The plane journey was quite a non event until we approached Atlanta. Arriving ahead of schedule it suddenly went dark, we were going to land in a storm then out of the blue there was a big flash, yep we were struck by lightning, you can guess what Ryan and Matt were going through. It was a very bumpy approach but the landing was smooth. Having arrived in the terminal building it was off to immigration, this time we were asked if we have travelled to the states before on our passport and when we said yes many of us were ported through to automated machines.
​
It was a much faster experience and we arrived at the baggage carousel waiting for our baggage. Baggage collected it was a short trip into the arrivals hall. We had arrived in the new terminal which proved a much better experience. Everyone on the coach, well nearly everyone, The Florida Group were late and had to make it to the hotel seperately. Our short journey started to the hotel where Nev told us some of the items coming up, including ERS's, amount of parks, amount of coasters and 7 Boomerang's !! Arrived at the hotel, it was up to our rooms, a quick change then we all gathered at the hotel bar. Day 2 is at Six Flags Over Georgia, with an ERS on Batman and Goliath, a 7.30AM start with the luggage in the hold.
---
Day 2 and our first park. The day started early with a 6.30AM hot breakfast then it was on the coach with the luggage for our short journey down to Six Flags Over Georgia. We arrived at the park too early so took the opportunity of a group photo. Once we received our entry ticket and photo voucher we headed into the park. Our first stop was at Goliath where we managed to get a few rides in before we were taken to Gotham City for a few rides on Batman. ERS's over we headed up to The Dare Devil Dive Coaster to ensure we could be first before the public were let into the park.

After the ride on The Dare Devil Dive Coaster we split up into our groups to explore the other great rides the park has to offer including The Railroad and The Great American Scream Machine. A few more rides and it was off to the Carrot Club for lunch consisting of Chicken, Hot Dog, BBQ Beans and a bag of Crisps. During lunch we had the Park Manager Gene up and also the Park President, Dale. As well as speaking to us we could also ask some questions and they also had an operaions and maintenance guy there too, during the question and answer session it was found Steel Coasters are easier to fix but wooden ones are more reliable.

After lunch we had some more time to explore the park's rides, We did The Monster Mansion, Georgia Cyclone and Sky Bucket Cable Car to name a few. We also took a little time out to go and have a look at the parks new area Hurricane Harbour which has opened Phase 1 of a multi phase project. More Coasters and Souvenirs followed by us heading back to the coach for our journey up to Charlotte in North Carolina. For the first time in club history we were allowed to purchase 2 cans of Bud Light for the journey, much to Ryan's agreement! Half way through the journey we stopped off at a Truck Stop to refuel.

The Truck Stop also had a shop and McDonalds attached and they did very well, managing to serve 54 people in just 15 minutes as many had decided to eat there as we are not due at our hotel until 9.30PM and there is also a trip to Walmart when we get there. Tomorrow's park is in 2 States, North and South Carolina with the state line going right through the park. This will be the club's first full visit to the park as the last visit only had a couple of coasters as the park was officially closed. I last did the park in 2004 and am looking forward to returning.
---
Day 3 and the second park of the tour spanning 2 states. After another hot breakfast we were on the coach for 8AM for the drive to Charlotte to visit Carowinds, I last visited the park in 2004 and the club last visited the park in 1997 and back then the park wasn't open but they opened a few rides for the club to enjoy so today was our first full visit.

The day started with a tour of the perimeter of the park as all the gates were closed. We had to enter a private area to find security to open the gates so we could get in. In the park and through security there was a group photo taken by the park and then it was over to Intimidator for our ERS. We got a few rides before the public was let in and then we had time to split off in our groups to explore the parks many other rides. We headed over to Hurler only to find the park were doing some maintenance and we were originally told it was down for the day. Next to the Hurler was Drop Zone so we had a couple of goes on this. Heading over to another ride Nev stopped at a Grab Machine to have a go at winning an iPad Mini but the machine won and no iPad. We then did their Mouse Ride Ricochet. We had to head over to Thunder Road as a TV crew were waiting for us so members filled a train for the filming and then Nev got to an interview.

The local channel is CN2 and the report has still to be uploaded to their website. Nev threw out a challenge on the Shoot 'em Up ride but the scoring was very low. It was now time to head over to The Picnic Grove and we had a choice of Chicken, Corn on the Cob, Garlic Mash and wait for it, as it was only $1 a head extra Steak. This was cooked Medium which everyone enjoyed the taste of the steak. After lunch we were joined by the park's CEO Bart who had a chat with us. Lunch over we had the rest of the day to do the park's other rides. We headed back over to The Hurler to see if it had opened to find it still closed, but within minutes the queue line opened and we were on.
Dinosaur's Alive is another attraction to visit in Cedar Fair Parks which we did followed by doing some more Coasters.

Unfortunately for the tickers as the park was quiet they were only running one side of Thunder Road so they'll have to come back another day! At 5.30PM it was back on the coach for the journey back to our hotel and then an evening to ourselves as we have a lie in as we are not leaving until 9.30AM. We went to The Tilted Kilt which was just over the road from our hotel. It was quite funny as a few of us ordered Pitchers, our hostess has never had anyone order a pitcher for themselves and we had half a dozen, we explained we were British!
---
Day 4 and a travelling day hence the generous departure time. Not having to leave until 9.30AM we were able to chill, unfortunately some chilled too much and when they came down for breakfast, they found it had finished! Most enjoyed a lovely hot breakfast. At 9.30AM we were all on the coach with our luggage for the long journey to Richmand in Virginia. The first part of the trip was quite chilling with nothing happening. At 12.15PM we arrived at our midway point, stopping off at The Northgate Shopping Mall in Durham, North Carolina where we were given just over 2 hours to browse the centre and get something to eat.
​
We went into Ruby Tuesday's for lunch and a pint whereas a lot of members decided to check out the Mall's Food Court. Shopping Done, Watered and Fed it was back on the coach for 2.30PM so we could continue our journey to Richmond in Virginia. This trip we played 3 games of Bingo with 9 Prizes in Total as we played for a line, 2 lines and a Full House. There was an added bonus of a Prize for the silliest call and that went to Tom who won a Carowinds Towel. There was only 1 false call so the games ran pretty well. Bingo over we had another game, Rock 'N' Roll Bingo. Games over left us an hour left to get to our destination.

---
Day 5
and Park No.4, Busch Gardens in Williamsburg. Again we had some issues getting into the park, this time we drove up the Exit lane and got the attention of security who managed to get us to the England Parking Lot. There we waited for a short time so decided to do a group photo as today is Tour T-Shirt Day. We were then greeted by Park Official Grant who got us into the park through a side entrance. We were walked over to Verbolten for our first ERS of the day. The ride was still testing when we arrived but shortly afterwards we were away.I didn't know what to expect as I don't do any research into new rides before I ride them and I got a nice surprise.
The ride was smooth, took you into a tunnel where there was a drop just like thirteen, then there was a drop and acceleration before returning to the station. The effects in the tunnel were different and it depended what train you were on to what you experienced. Verbolten done we walked over to Mach Tower and took over this ride just before the public arrived. This is where we seperated into groups to explore the parks many other rides. We went on Alpengeist and saw some members on Le Scoot, the park's Log Flume. We stopped off at Das Festhaus for some refreshments as this was next door to the Black Forest Picnic Village where our lunch was at.
​
During Lunch we had a talk with the park's staff about it's history, when the park was owned by Anheuser Busch there used to be a Monorail ride from the park to the brewery which is located next door and there you could receive 2 free drinks and also participate in the beer school giving you more samples to try, Ryan couldn't believe it and was very disappointed that this Monorail Ride had closed!
After lunch we were all walked round to the England Area and got some photo's with the actors from the park's London Rocks show. Photo's done we were given VIP seating for the show. We then did the park's other rides including Apollo's Chariot and The Legendary Loch Ness Monster, the Arrow multi looping coaster. We then took a ride on the park's train and did a couple of rides on the Sky Ride and did some final shopping before heading over to France for our second ERS of the day on Griffon. This was a very popular ride with the club and a great way to end the day in the park. Back to the hotel it was a quick change and back out, tonight many of us chose The Cracker Barrel.
---
Day 6 started with a hot breakfast in the hotel then on the coach for 8.30AM, guess who was late, Nev and Christine so you can guess what reception they got, LATE!!!!!!!!!!! Today we have been joined by club member Andy Hunter who is regularly on the USA Trips. We turned up at the park and they were waiting for us so we drove in, walked to the entrance and headed over to Intimidator 305 for an exclusive 30 mins and then we were to be joined by the Park's Season Pass Holders. The Park had also given us The Crypt, their Top Spin Ride but this wasn't operational so the park opened up Avalanche and Flight of Fear. Following the ERS we split up to explore the Park's other rides.

We did Volcano - The Blast Coaster, Back Lot Stunt Coaster, Anaconda, Woodstock Express and Dominator. At 12PM we headed over to The Picnic Grove for our lunch which included Hot Dogs, Chicken Burger and a Meatball Sub. During lunch there was a question and answer session where members asked the staff about future Woodies etc. They also mentioned about a Monorail they had and removed, much to Ryan's disappointment! After lunch it was back into the park for some more riding. Some members braved some wet rides doing the Park's Log Flume and White Water Canyon Rapids Ride. The Log Flume was tame but the rapids got them, they were soaked! We then did our second woodie of the day Grizzly.
​
When we got off the ride we met 2 club members who are doing their own coaster tour so posed for a group photo in front of The Grizzly Entrance. Windseeker was next followed by the Mouse Ride Ricochet and then we went back to wood doing Rebel Yell. Only one side was open as the park was quiet but Heather was pleased as it was the side she needed for her Coaster Tick. Finally we did the Drop Tower and that was the riding finished for the day. Then it was a trip up the Park's Eiffel Tower to get some aerial shots of the park's rides. All that left to do was some shopping followed by a short walk back to the coach and the journey back to our hotel so we could enjoy our evening at O'Charley's.
---
Day 7
started early with a hot breakfast in the hotel then at 7AM we had to be on the coach with our
l
uggage for the 2hr drive up to Marlboro in Maryland. We had a straight forward journey arriving at the park with everyone waiting for us. Coach parked we headed to the entrance where we were given an entry ticket, park map and wristband for the Picnic Area access. Through the security check we headed over to Superman for the first ERS of the day, this was combined with an ERS on Joker's Jinx. We went over to The Wild One but that ride was still testing so we had a go on The French Quarter Flyers.

​
After this we headed back to The Wild One and it was up and running so on we went. We then headed over to a different part of the park for a go on the park's other woodie, Roar which was running well. Time was pressing so we headed over to The Oak Grove Picnic Pavillion for our lunch which included Taco's! During lunch we were joined by Daffy Duck who happily posed for a number of photo's with our members. There was a question and answer session and that Monorail question got asked again!! After lunch we walked around to the Stunt Arena as we were invited to their show which they delayed for us.
After the show the park took a group photo of us and then it was back into the park to check out the park's other rides. Members got a roll-back on Batwing which was experiencing problems. We couldn't check out the park's new coaster for 2014, Ragin' Cajun as this wasn't ready. The coaster looked ready but the surrounding area was still being worked on. There was still Mind Eraser and Apocalypse to check out, Apocalypse being the relocated Iron Wolf from Six Flags Great America. Six Flags America is a relatively small park in the Six Flags group so we were easily able to do the whole park at leisure.
​
At 4PM it was back on the coach for our journey into New Jersey and for some of us casino night. Due to heavy traffic and accidents in the Washington Area the journey took twice as long as it should have done so on arrival at the hotel it was a quick change and back on the coach for the drive into Delaware.
---
Day 8
started with a hot breakfast and then at 7.30AM we had to be on the coach without our luggage for the journey down to Wildwood, New Jersey. On the coach today was Birthday Boy Ryan Hackett, the only member to have 2 Birthday's in a year, his real Birthday now and his second facebook Birthday in December. The roads were a lot busier than anticipated so we arrived late. When we arrived we went to Mariner's Pier and Jumbo's for lunch consisting of either a Cheese or Peperoni Pizza. Soft Drinks were also provided but some members decided they's like to pay more for a beer so a beer it was.
After lunch and getting a wristband we headed down to The Adventure Pier for a 2hr Pier ERS allowing us to try many of the park's rides. We started by having a group photo by The Great White entrance. Then there was a group photo solely for those wearing their Morey's Piers Shirts. Photo's over it was up to the station for some riding on the wooden coaster. We also had the Grand Prix Raceway, Screamin' Swing and Spring Shot. Having never done a reverse bungee I decided to have a go, a few choice words but I did enjoy it as did all the members who tried it and their were a few first timers.
When the ERS on the pier was over we had time to explore Wildwood, their boardwalk, their other piers, Mariners Pier and Surfside Pier. I went up the Giant Wheel so I could get some shots of the Piers and also got in the Sea Serpent. As usual a great day was had at Morey's. Six Flags Great Adventure tomorrow.
---
Day 9 started with a hot breakfast and then at 8AM we had to be on the coach, with our luggage for the short drive to Jackson, New Jersey and another Six Flags Park, Great Adventure. After going through security we entered the park by the side entrance and walked over to El Toro where we had an hour's ERS on what is a woodie behaving like a steelie! much to Adrian's enjoyment. The ERS was well received and at the end of the ERS we gathered by the entrance to be taken through a back walkway to Bizzaro (Formally Medusa) for the first rides of the day.

Again well recieved we stayed as a group and headed over to the park's new Safari Ride, we had a couple of people queue jumping but managed to get the staff to remove one of them from the line! We had to queue for around 30 minutes for this ride and the park then took our photo, it was great as they said How Many and we replied 40+ Photo done we were on the truck for our trip around the reserve seeing many of the park's wildlife. This was actually quite a long tour so when we reached the destination it was time to head for lunch at their Picnic Grove and we arrived slightly late.

We were given a raffle ticket on entry. After some Chicken and Burgers and Salad the park did a raffle raffling prizes, shirts etc. but more importantly there was an Exit Pass for 4 People on offer for every winner. Raffle over and Adam presented the park with a drawing of El Toro and he managed to get an Exit Pass for 4 people. There was a question and answer session and after this it was back into the park to explore the other rides and coasters. This was a difficult day especially for those not winning Exit Passes as the park was busy with long queues on most rides.
​
At 3.15PM we met in the Kingda Ka area as this ride is closed during the day for ongoing work and testing of their new drop ride ZumanJaro Drop of Doom. We were taken through a back entry ahead of the public opening of the ride so managed to get a couple of cars full of members. Unfortunately the Drop Ride still wasn't ready so we will have to wait for our next visit in a few years. Kingda Ka done there were more coasters and rides to do before we headed back to the coach at 8PM for our journey to our next hotel in Princeton, New Jersey.
---
Day 10
and another hot breakfast then it was on the coach at 9AM for our journey to Manhattan in New York. The journey was going well until we approached New York when we were at a crawl. The 9AM start was trying to avoid heavy traffic. We were dropped off near The Hard Rock Cafe and a few of us started to flag the yellow cabs as our first visit of the day was to see the 9/11 memorial and to pay our respects. It was a remarkable site and moved many of us who wen there. We stopped off at an English Pub for some lunch and a full 20oz pint.
Having travelled on by yellow cab it was time for a go on The New York Subway with a flat rate ticket costing $2.75. Members visited Times Square, Central Park, The Empire State Building, The Rockefeller Center & Intrepid Sea, Air & Space Museum to name a few. After seeing the sights of New York, Shopping in New York, Eating and Drinking in New York including where we were dropped off, The Hard Rock Cafe. As we were getting picked up just down from The Hard Rock Cafe many members decided to finish off there day there, some having something to eat and some just having a drink at the bar.
At 5.45PM the group gathered together ready for a quick boarding of the coach and at 6PM the coach arrived, All boarded we headed out of New York via The Bronx and The Washington Bridge but the roads were so congested so we had to do a U-Turn and source an alternative route out of The Big Apple. As we were running very late we stopped off at a service area so the coach could refuel and we could get something to eat as we would now arrive at our hotel too late for food.
---
Day 11 started when we boarded the coach at 9AM for our 16 mile journey to Six Flags New England. After the journey experience yesterday Nev joked the journey could take a few hours. We arrived early and the park were ready for us. We got to the car park where a shuttle tram was waiting to take us near the entrance. This dropped us off at the bottom of some steps which crossed the main road and led us to the entrance. Well what a day was in store for us. We were walked over to Bizarro for our ERS. The ride provided plenty of airtime especially when sitting at the front. After the ERS we split into groups to have a go on the park's other rides, We went onto their mouse ride Gotham City Gauntlet Escape from Arkham Asylum which proved fun as mid ride the whole ride stopped with our members on it.
​
​The park had to call an engineer to manually return the cars to the station then reset the ride. All reset we got back on. Then we did Catwoman's Whip and Mind Eraser then we saw club member Gareth Arkell on a Mobility Scooter. After a quick chat we went onto Batman The Dark Knight. A Woodie next we did The Cyclone and the tried their new ride for 2014, Sky Screamer. The park was reasonably quiet enabling plenty of rides before lunch. At 1PM we headed to The Rivers Edge Picnic Grove. At lunch we had another question and answer session. Then we got into groups of 9 people and were assigned a staff member and each group were walked up the Exit ramps of their rides for some more riding taking in Cyclone, Sky Screamer, Pandemonium, Flashback, Goliath, Thunderbolt, Scream Tower, Bizarro, Mind Eraser and Batman The Dark Knight.

This is where the staff member left us as we only had about 20 minutes to do some shopping and get back to the coach. Another group went onto Blizzard River and got their staff member Will to go on with them, needless to say he got soaked! The day wasn't over, at the entrance to the park we were given a bag with some goodies in them. An amazing brilliant day was had by all at Six Flags New England. Thanks to Michael, Melanie and their teams for making it such a great day.
---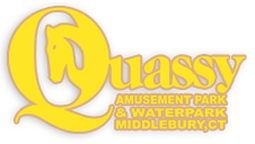 Day 12
and we were off to Quassy Amusement Park, a Traditional Family Owned Amusement Park. We arrived to Coffee and Pastries and were then taken over to their new Woodie, The Wooden Warrior, Although this was only a small woodie it packed a punch and was enjoyed by everyone. It was so re-rideable that many members stayed on the ride well after the ERS was over. We also tried their other coaster, Their 1952 Little Dipper. Then we had a go on their Grand Carousel and took a ride on their train ride. We had a go on Free Fall N, Yoyo and Trabant. We have a number of consecutive goes on The Bumper Cars as this ride proved very popular and then went for a spin on The Paratrooper. Then it was time to head off for lunch which the park was cooking fresh for us, Burgers and Hot Dogs and this lunch came with Beer and Wine much to Ryan's delight.
---
After lunch there was time for some more riding before we gathered by The Wooden Warrier sign for a group photo taken by the park. We thanked them for our visit then headed off for what we thought was our next hotel, however our president had a trick up his sleeve like he does from time to time and announced we were going to visit Lake Compounce. We arrived late as we took the wrong direction so had to get Mike & Andy who were travelling in the car to find us and take us to the corrct entrance to the park. Once in, there was only a short time to do a couple of rides before the park closed. We did have one bonus though, we had an ERS on Boulder Dash which has been voted the Number 1 woodie. We had a number of goes on this great coaster having 2 consecutive goes in the same seat each time. Once the ERS was over it was back to the coach for our journey to Bedford in New Hampshire.
---
Day 13, 14, 15 and 16 coming soon!

Below are all the pictures from the trip. Enjoy the memories.......

Trip report by Dave Perry