USA 2018 - Let's Go Round Again
Congratulations to everyone who made the draw for this trip. As you will know from information you've already received, the trip was well over subscribed. I've managed to get as many people on the trip as possible by making a couple of mini-vans available to follow the main tour coach. This was also helped out by all the members who offered to upgrade their seats on the plane in order to free up more for more people - so thanks to you also!

It will be a trip of a lifetime, and whilst it seems ages away, time will fly by and before you know it, you'll be at the 'USA Meeting' which follows lunch at the Blackpool Bash, then with only a few weeks to go!
​As part of the RCCGB's 30th anniversary celebrations next year, 'USA 2018 - Let's Go Round Again' will depart the UK on Friday 1st June and return on Sunday 17th June 2018.
Parks include Knoebels, Cedar Point, Kennywood, Kentucky Kingdom & Dollywood. That means you will experience Top Thrill Dragster, Phantom's Revenge, The Beast, Lightning Rod and my favourite Woodie, The Phoenix! And that's just a few of the dozens of amazing coasters on the tour. I'll be arranging loads of ERS's (Exclusive Ride Sessions) throughout the tour as well.
Updates will appear on this page below as and when available with the latest update at the top.
Andy Hine MBE (aka Nev)
---
---
Update 05 November 2017
- (208 days to go!)
Everyone has now sent in their signed contracts (thank you) and some of you have also sent your next instalment, so thank you for that too. Don't forget that the date for the next instalment is January 4th (and final one March 4th).
I am now taking orders for the Tour T-Shirt - this is only available to those on the trip and is a very exclusive item. In addition to the official Tour T-shirt (details below), I am introducing some new items of Club merchandise which you may find useful. You even have two choices for each item - The Club logo or to make it really unique, the USA 2018 logo (exclusive for USA2018 trip attendees only!).....
BUM BAGS (or as the American's call them - Fanny Pack!)


A very useful item for carrying all your essenitals around the Park. At 28cm in width, 12cm in height and 10cm deep it is big enough too carry a sun glasses case, camera, phone, sun lotion and some cash (Plus a fridge magnet, key ring, etc., that you may purchase in the park!).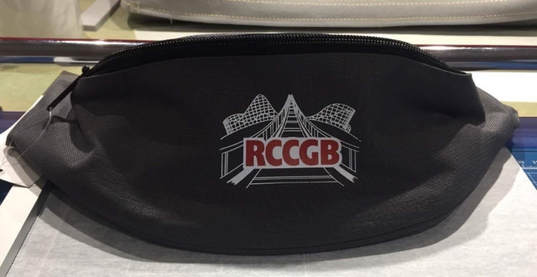 BUM BAG with RCCGB Logo

It is black with the club logo on the front. It has two zips (one for main compartment and one for a smaller one) and is splash proof.

The belt strap is adjustable and can fit up to a 44 inch waist. Perfect for use around the parks and is small enough to be worn on the rides.

Price: £10
---
BUM BAG with USA2018 Logo

As above description, however, this item is EXCLUSIVE for attendees of the USA2018 trip!

Price: £10
---
BASEBALL CAP
What can I say - it's a baseball cap! Essential for protecting your head from the hot sunshine. Comes in black, with either the Club logo or the USA logo on the front. It has an adjustable strap at the back for the prefect fit. It is machine washable so will provide many years of use.

As with the Bum Bag, and exclusive to USA2018 trip attendees, you can also opt to have the USA2018 trip logo on front.
​
Price: £12
---
WALLET
Perfect for keeping all your dollars and credit cards safe during the trip and of course it's multi-purpose - perfect for keeping all your pounds and credit cards safe when you are back in the UK!

At 13cm x 8cm closed it opens to 24cm and has a slot for notes, a picture slot for ID, 4 credit card slots and a zipped pocket for coins. The whole thing seals safely closed with a velcro strip.

​No option for USA logo on this item.
​
Price: £10
---
TOUR T-SHIRT
The official USA 2018 ~ LET'S GO ROUND AGAIN tour T-shirt (only available to trip attendees). It has the trip logo in full colour on the front and text on the back. There will be special day to wear it too, so don't miss out!

Available in S, M, L, XL & XXL (Please remember to put size when ordering).

Price: £9.50
HOW TO ORDER
There are two ways to order. Either click "ORDER ONLINE" below and complete the relevant boxes or click "ORDER FORM" for an old fashioned printable form, which you need to complete and send in the post with a cheque.
When completing your order remember to put which logo you require (Club or USA2018) for each item and don't forget to put what size T-shirt you require - all done at checkout.
There are also three delivery options and you
must
choose one:
Collect at Airport - FREE
Collect at Blackpool Bash - FREE
Delivery in advance (post) - £5.00 (irrelevant of size of order)*
Note: Tour T-shirts are
not
available in advance and will be given out upon arrival in the USA and have no postage charge (if this is the only item you are ordering - click "collect at airport").
*For delivery in time for Christmas please order by December 4th.
Final
deadline for all orders is March 4th
and for everyone who orders something - there will be a little surprise sent (Unique to this trip!).​
Important:
Ordering of merchandise is
ONLY
available to USA2018 trip attendees. The standard RCCGB branded items will be available for sale at the Blackpool Bash.