The Roller Coaster Club of Great Britain
Welcome Coaster Crazy Enthusiast!
You've arrived at the home of 'The Roller Coaster Club of Great Britain' - Europe's most popular coaster club
*
.
We are a social club that unites roller coaster enthusiasts from all over the world who like to add extra FUN into the already fun packed world of roller coasters! With over 1000 members from 15 different countries it's the club to be in if you want to meet people of all ages who, like you, have a passion for riding roller coasters.
On this site you'll find all sorts of information about the club, our upcoming trips, trip reports, back issues of our old printed club magazine AIRtime, useful links, and information to expand your knowledge.
If you're already a member, have a browse and enjoy reliving memories of the trips you have attended, look up the next club trip or checkout the latest club news. If you're not yet a member, have a look and see what fun we get up to, then if you like what you see, visit the
join
page and you could soon be shouting "Coaster Crazy!" with the rest of us at any of our great club trips!
​
Andy Hine MBE, Chairman & Founder
* based on average trip attendance
---
Latest Club News and Information
Happy 30th Anniversary to us !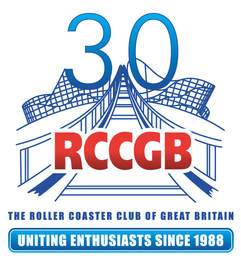 2018 marked the 30th anniversary of the RCCGB. Since 1988 the Club has united coaster enthusiasts from all over the world with many friendships formed, marriages created, and endless amounts of coaster crazy fun together.

Over 20 years ago I started the 'Real Coasters are Made of Wood' campaign, mainly aimed at Alton Towers, and it couldn't be more fitting that they are opening their first wooden coaster during our 30th anniversary celebrations. Plus Blackpool Pleasure Beach are bringing us 'Icon' too, so a great year for Uk coasters.

As the year nears it's end, we hope that everyone who attended any of our club trips during 2018 had a great time and I hope that you made it to some of the events I organised for you this year - club trips are the best way to meet fellow members and have a great time together.

Thank you for all your support during 2018. I hope to see you on club trips again in 2019 for another year of coaster craziness!

​Andy
---
---
Andy Hine - Why Wood is Good (Alton Towers Article)
Andy does a short interview for Alton Towers about Wooden Coasters and explains his love of them, the campaign for 20 years to get a new wooden coaster in the UK (and anyone who's been to Loopathon in the past knows the wind-ups we've been giving the management to get one).

The article also explains how wooden coasters are different to steel ones, and what people should expect as most people who regularly visit Alton Towers, Drayton Manor, and Thorpe Park etc. won't have ever ridden one, and those who have probably haven't experienced new wooden technology.

An interesting read.... Click

here

to read the article.
---
Trip Report Archives
Matt has been working through getting the trip reports updated on the site from previous years, so check back from time to time to see what has been added since you last looked and relive those coaster crazy memories again. You can access these from the Archives Menu or
here
.
---
The Next Club Trip

Meet at the Park
Saturday 1st December 2018

2018 Membership

We are accepting both new and membership renewals for the 2018 membership year using our online payment facility. Just press the button below to go to the membership page which contains all the information you need.

Club Trips Calendar

Trips for 2018/9 are listed below with more being planned all the time so keep checking back, or click the calendar below to see more detail.

June 2018

- USA 2018 Tour - Lets Go Round Again

August 2018

- Mega-GLOW-Mania, Oakwood Theme Park

October 2018

- Loopathon, Alton Towers & Drayton Manor

December 2018

- Winter Wonderland, London

January 2019

- Winter Ski Trip - Tignes, France

April 2019

- The Blackpool Bash! (Cartoons Theme)

TBC 2019

- Meet at the Park (Energylandia, Poland)

August 2019

- Mega-GLOW-Mania, Oakwood Theme Park

September 2019

- Twist & Sheikh (Dubai & Abu Dhabi)
---
Quicklinks & Featured Pages
---
AIRtime ONline.... Keeping you up to date....
​As a club member, at the beginning of each month you'll receive the latest news via our e-magazine, AIRtime ONline, with links to full details and stories, photos, videos etc. Plus competitions, historical information, discount offers, trip details, member news and more.
AIRtime ONline is the digital version of the old discontinued printed version of AIRtime magazine. All of the old printed versions are available on the website, just select 'AIRtime Magazine' from the Archives menu.
To ensure that you receive your monthly edition of AIRtime ONline, please ensure that you have set the email address airtime@rccgb.co.uk as a safe sender within your email settings. If for some reason you do not receive the email, please also check your spam/junk folders as occasionally some email providers will still send the email to those folders.
Please note:
The airtime email address above is for sending AIRtime ONline only. If you wish to get in contact with the club, use the addresses provided on the
contacts
page.
---